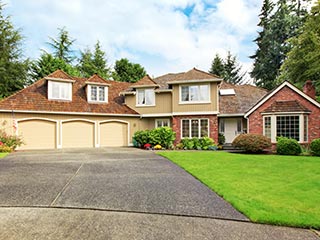 It's natural for homeowners to have questions about their automatic garage door, or about the subject in general if they're considering getting a new system installed. In any case, you'll want a reliable expert to provide you with answers, and potentially also perform any required task you may have. That's what we'ere here to do.
At Your Service
Our company has been assisting local homeowners with various problems for over a decade now. We'll be more than happy to serve as your technical advisor or as your own private team of garage door handymen (and women). The quality of our services and the products we sell speaks for itself. In fact, we've become known across Georgia for our professionalism and dedication to excellence.
Every Type Of Problem
If your garage door system is waging a daily war against malfunctions, our technicians can more than make a dent. Whether it's the tracks, the cables or the opener that's giving you problems, doesn't matter to us. We specialize in dealing with every type of issue an overhead door can suffer from, and we are always able to provide our customers with effective and long-lasting solutions. Nobody wants to have to deal with a door that keeps getting stuck, or one that's grinding out something fierce every time it goes up and down. By having our experts take care of the problem, you'll be able to rest assured knowing that your automatic garage door is going to undergo a veritable makeover.
Maintenace Will Save You The Hassle
One of the main services we offer is regular service appointments, during which our technicians perform a complete examination of your system, and apply various minor adjustments and repairs. We make sure the spring tension is properly distributed and that both them and the rollers are lubricated and able to work smoothly. We also test the safety sensors to ensure your door remains safe to use. By doing this, and a lot more additional tests and fixes, we can effectively help the system avoid a lot of malfunctions.
Just A Phone Call Away
If you're looking to buy a new opener or even an entirely new door, and want to consult with an expert before making a decision (as well you should), our team at Garage Door Repair Loganville will be more than happy to assist you. If you need some part of your existing system repaired or replaced, we'll gladly take care of it for you.
Call Us Today!
Emergency Services Available
Highly Skilled Technicians